WOOT! I've had my eye on these Audio/Video storage shelves for weeks now, just waiting for a sale. I decided they would be fabulous... FABULOUS... in my office as BOOK SHELVES.

Well, on Sunday I got the magic email from Target: 15% off AND FREE SHIPPING!!! So I got two.. TWO... of them! WOOT! They would have been $1099.46 with tax and shipping, but thanks to the magic email, I saved $129.00 on the price and another $191.98 on shipping for a final price with tax of $778.48... a total savings of $320.48! WOOT WOOT! And, evidently I wasn't the only one with my eye on them-- the walnut finish is now out of stock. PHEW!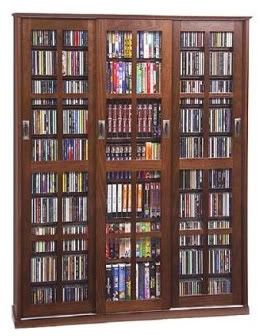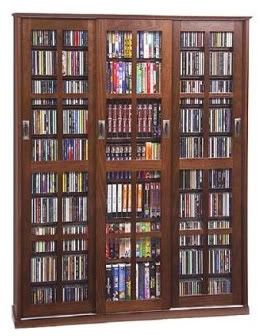 • With 28 shelves, this roomy mission-style cabinet offers plenty of space for extensive music and movie collections
• Holds 1,050 CDs, 504 DVDs or 294 VHS tapes
• Made of wood composite with a walnut finish
• Sliding glass doors protect your collection while letting you see everything inside
• 61.81Hx46.88Wx9.44D"

I mean really, since they're just for my office, I didn't need to shell out big bucks for "real" furniture (these are RTA), but I wanted something that looked nice and had doors. These are perfect because the doors slide side-to-side instead of opening out, and of course, the best part?
NO FREAKIN' DUST all over the books!!
So, OUT with the treadmill (that's covered in debris) and IN with some things I will actually USE! Although I did buy a recumbant bike last week. But that will go in our bedroom-- the place I will be hiding out in because summer is almost here and the demon spawn and their demon cohorts will be invading my domain for the next 3 months.
Anyway, back to the shinies... I think I can get a big chunk of my TBR mountain into one of them, certainly the most recent TBR additions. And the other one will house the books I re-read or refer to the most. So for sure:
Laurell Hamilton's Anita Blake and Merry Gentry series
-- hard cover, paperback, comics and audio books,
Karen Marie Moning's Highlander and Fever series
-- hardcover, paperback and audio books,
Bertrice Small's Skye O'Malley and World of Hetar series
,
Madelynne Ellis' A Gentleman's Wager, Phantasmagoria
and the upcoming books in the series
Hmmm... plus any other audio books I have on CD... probably
Lora Leigh's Breed series
... not sure how many more I can fit and I'll need to leave room for upcoming books... and I still need to go through and organize all my books... I still have a dozen underbed storage boxes with wheels and lids... must ponder whether all these things can eliminate all the mountains of books around here... it just
MIGHT
be a possibility.
UPDATE:
Target and UPS don't seem too worried that Target shows the shelves awaiting UPS pick-up, UPS says they didn't pick them up; yet NO ONE CAN FIND THE DAMN SHELVES!! WTF??!! So, since the walnut finish is now sold out, I had to order the light oak finish instead. Not a real big deal since I do have other oak pieces in the office, but, DAMMIT, I want someone to CARE and to get off their asses and walk out to the loading dock to physically see if my original order is still sitting there!