Back in 2006 at the Rt Con in Daytona, there were a lot of truly amazing panels that I am so glad I did not miss. But hands-down, the most memorable one was the Vampire panel with Charlaine Harris, Maryjanice Davidson, and Laurell K. Hamilton.


I was not alone in saying that they should take their act on the road! The hilarious way they interacted with each other, which showed an underlying warmth and a genuine affection and respect, had everyone in the room in stitches.
That Con is also where I decided to give Harris' Southern Vampire series another chance. As I've said before, I read the first one and just felt it moved too slow for me. But, after seeing the throngs of adoring fans of Ms. Harris and finding her to be so absolutely charming in person, I realized that I needed to go back and revisit Sookie.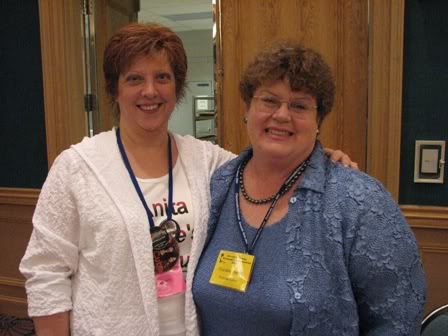 Well, thanks to Johanna Parker's brilliant narration of the audio books (see
my index
), I realized that I just wasn't hearing the "Southerness" of the books when I read them to myself. The problem boiled down to me using my clipped, Midwestern voice to read (which works well with LKH's ABVH series) instead of the smooth mellifluence found in Ms. Harris and Sookie's Southern charm as so wonderfully portrayed by Parker.
So, ever since that first Southern Vampire audio book (Book 5-
Dead as a Doornail
, although I did go back to read book 4-
Dead to the World
), I cannot wait for each new audio release. And now, with the HBO series,
True Blood
, I get to see the stories from multiple POVs. Although, I admit that I had my doubts about it since I SO identified Sookie's voice with Ms. Parker's portrayal but, through sheer luck, Anna Paquinn's Sookie sounds close enough to Johanna Parker's Sookie that I was able to make the transition fairly easily.
Anyway,
I don't remember where I found the link, but
Marta Acosta's
VampireWire
pointed me to
this auction
that recently appeared on eBay:
This is your chance to purchase immortality . . .

or maybe not . . .

New York Times best selling author



Charlaine Harris



will allow the winner of this charity fundraising auction to

"Name a Character"

in the next book of her hugely successful

Southern Vampire Mysteries (Sookie Stackhouse) Series

_______________________________

This very special opportunity has been generously donated by Charlaine Harris and all proceeds from this auction go directly to the American Heart Association - Greater Southeast Affiliate.

The highest bidder will win the naming rights for one character in Ms. Harris' next book in the Southern Vampire Mysteries series featuring Sookie Stackhouse, a psychic cocktail waitress in rural Louisiana. Charlaine Harris has received numerous awards and recognitions, and currently all 8 of her books in this series are in the top 25 on the New York Times Paperback and Hardcover Fiction Best Sellers Lists! If you are a fan, you also know that this Sookie Stackhouse series is the foundation for "True Blood," a current HBO hit show.

The character's chosen name must be mutually agreed to by the winner and Ms. Harris and the auction winner will release all rights to the created/chosen name's use within the specified novel. Additionally, if the character is named after an actual individual, the said namesake must agree to the use of their name. There is no direct or implied financial benefit for the winner or any namesake. At this time, the release date for the next novel in this series is undetermined, but will likely be within the next 12 - 18 months.

If and when the bidding exceeds $1,000, all future bidders must be pre-approved. To gain approval, please click on the Pre-Approval Request link that will appear at the top of this listing and provide your full name, e-mail address, phone number and a statement confirming you are at least 18 years of age. Approval will be granted at our discretion and will be based partially on your eBay feedback rating. We will contact you if we need additional information and will notify you upon approval.

Thanks to Charlaine Harris, we are thrilled to offer this incredible opportunity to be a part of literary history. Bid high knowing that your enthusiasm will aid the American Heart Association - Greater Southeast Affiliate!
Now, here's where the REALLY interesting part (at least to me) comes in...
Allow me to point out a couple of facts about that auction...
First of all--- IT'S OVER!
And second of all---
OMFGHOLYSHITICANNOTBELIEVEIT
I WON!!