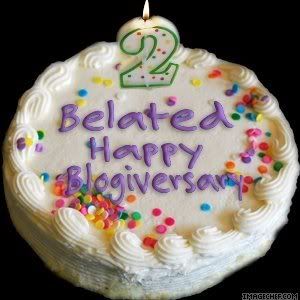 Actually, it's a BELATED Blogiversary because I trusted my memory (BIG mistake) and thought I popped my blogger cherry (in a post aptly titled
Virgin No More
) on February 17th, 2007. Turns out it was February 10th. DOH!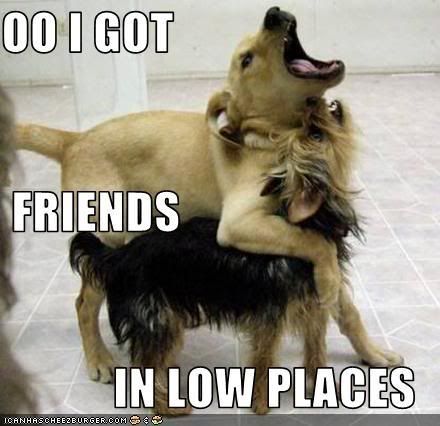 So here I am two years later. I've made a lot of online friends, more than a few enemies, and a handful of frenemies. There's a few people that I no longer care to visit, some that have made it clear that I shouldn't visit, but even more that I follow in Google Reader and would definitely miss if they weren't around. I think there's probably a reason why certain people play a part in our lives (cyber or real) for a while, and then when they are no longer needed because they've fulfilled or failed to fulfill whatever our initial needs were, we drift away or something happens to take them out of our (cyber or real) lives and we move on.
A lot of days (actually it seems like MOST days lately) I'm sure that I have nothing more to say. But then something silly or impassioned or bawdy will set me off and I'm back to posting and commenting again. Hell, you guys would have to turn off your blog comments to get me to shut up and leave you alone. And in case you don't realize it, I really appreciate those of you that drop by this blog and make blogging so much fun!
The very first Sweet Beefcake Eye Candy pics I posted were
oldies but nummies
. I find it interesting that they illustrated how I saw certain characters in books (LKH's) and here I am two years later discussing how I
envision characters
in books again (Madelynne Ellis').

And OMG, I was bitchin' about Sunny and her
Monere series
back then, yet I'm STILL reading that damn deritive, yet addictive, sludge. It's a SICKNESS I tell you and
I owe every single LKH "negative fan" a huge ass-kissin' apology
for any and all thoughts I may or may not have expressed that involved words that in essence meant "
If you don't like them, don't read them."
It seems I've fallen on my own sword and I can't get up!
Somehow, though, as I browse through some of those first few blog posts, it seems surreal that it's been two years since I wrote them. Sure seems like it's only been a month or two! Damn, I went off on a lot of F-bomb laden rants and nauseating whines. Either I've mellowed a bit since then or maybe it's just that I'm more cognizant of the fact that a few people actually READ what I rant/whine about and, when I realize later how asshatty I sounded, I also realize that I probably should have just STFU. Ah well. Live and learn that not every single thought in my head needs to appear on my blog.
To honor this auspicious occasion, I've decided to dial down my over-the-top decorating theme and replace the cherry blossom strewn chocolate wedding cake background that I've had for two years (except for the Holiday snowflakes) with something more than a wee bit different. Let me know what you think or if it's displaying hinky. I couldn't decide between that matching header that you see or some chocolate books on a black background that I have. Who knows, I may change it again. We'll see.
But lest you think I've suddenly acquired good taste, let me assure you that the rest of the over-the-top confections theme WILL remain unless I someday grow tired of Eye Candy and Books. At which point, please shoot me and put me out of my misery, kthx.
I've also decided that I need to remember the main reason I have this blog--
to keep track of books I've read and books I need to buy.
With that in mind,
I am determined to not read another book until I've got my sidebars updated including writing QB's Commentaries and updating my index for all the books I've read in the past few months!
Will I be able to hold out that long? We'll see.
Speaking of
my index
, I did a quick fix over there simply by getting rid of the cherry blossom strewn chocolate wedding cake background and replacing it with a chocolate silk background. That's pretty much all I'll probably do over there for right now since it uses a standard Blogger template that I really don't want to bother messing with. We'll see.
And now,
on to Cubies Confections, year 3!
Anyone wanna come along for the ride?