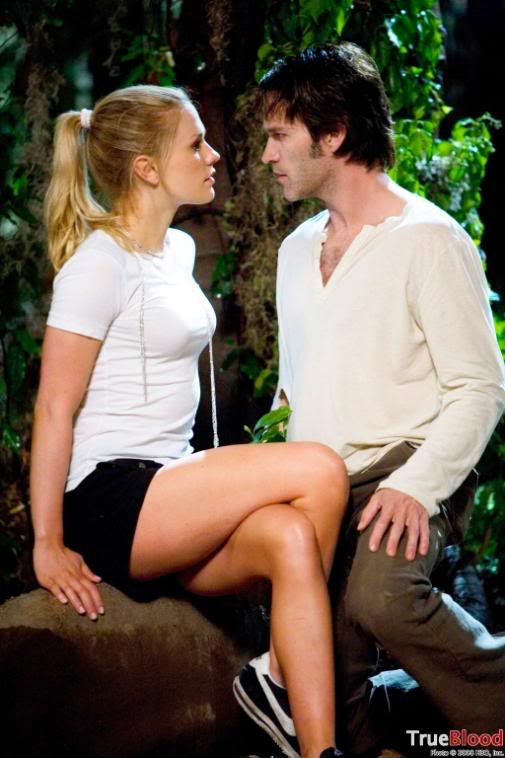 Well, this is an interesting exclusive interview from
TV Guide
via
Popeater
today:



True Blood's True Romance


True Blood stars Stephen Moyer and Anna Paquin say it's true love. The pair—who play romantically linked 173-year-old vampire Bill Compton and telepathic waitress Sookie Stackhouse on the HBO series—have confirmed they are dating. "We are together," Moyer told TV Guide Magazine exclusively on the True Blood set—right after finishing an intense scene where Bill and Sookie have a major lover's quarrel.

Moyer and Paquin's real-life romance first sparked at the True Blood audition, but the couple decided to wait to go public. "The reason it was dodged last year was very intentional on both our parts," says Moyer. "It was very important to me that the cast and crew we were working with didn't feel it was fickle, and didn't feel it could possibly potentially encroach on their lives, you know, just like, 'Oh the two stars are having a thing.' We didn't want to take anything away from the show. The show is the star, not the two people having a relationship."

So where is this romance going? Well, it seems Moyer, 37, and Paquin, 26, are living together—at least on this side of the pond. Moyer, who is British, divides his time between Los Angeles and London where he has two young children from a previous relationship. "It's just exciting and that was there from day one," Moyer says. "We always take the piss out of each other and are silly with each other and it is great. We're very, very happy. She's the best." —Kate Hahn

I imagine gettin' it on for the cameras every week let's you get to know someone fairly quick. I wish them all the luck in the world, but how many times have we seen serial monogamists in the acting community who find a new "true love" on each different project.
Having said that, I can't help but wonder if producer Ball will luck out and this real life romance will start hitting the skids, as Hollywood romances usually do, about the time that Bill and Sookie part company. Wouldn't THAT make for some genuine scenes! I know... my bad.