"So, HEARD any good books lately?"
"What did you think of...?"

Here's the Quickie answers to those questions. Click on the Links for more info.


I never found either Davidson's Undead series or Harris's Southern Vampire series particularly engrossing in print format. But thanks to brilliant performances by narrators Nancy Wu and Johanna Parker, I realized the problem was that I just wasn't appreciating the authors' voices. Now I eagerly anticipate the release of new audio books in both of these "must-hear" series.


MaryJanice Davidson - Undead and Uneasy, Undead (Queen Betsy) book 6
narrated by Nancy WU

Category: Peanut M&Ms - mmmm...devour... sigh... then reach for the next one. My daily dose of Insanity-B-Gone. (A-,B+,B)
Category: M&Ms - a bit lighter and/or not quite as satisfying as Peanut M&Ms, but still Oh-So-Enjoyable! (B,B-,C+,C)
Flame Height: 3" out of 9"

See INDEX for more MJD commentaries.

Undead series books 1 through 6 are available as downloadable audio books from Audible.com
1. Undead and Unwed
2. Undead and Unemployed
3. Undead and Unappreciated
4. Undead and Unreturnable
5. Undead and Unpopular
6. Undead and Uneasy
7. Undead and Unworthy (not available yet)

See MJD's website for a list of novellas and short stories set in Betsy's Undead world that appear in several print anthologies.


Undead and Unworthy has some (to quote MJD) "HOLY CRAP ON A CRACKER!" surprise events! Do.Not.Miss.This.One. or you will be lost in the upcoming books. I don't recommend it to newcomers to the series- you really need to listen to at least the first book, Undead and Unwed, to know who/what everyone is. As usual, Nancy Wu's narration shines when she's bringing Betsy's snarktastic irreverence to life. And Wu's characterization of Tina ratchets up the story's enjoyment beyond MJD's written word. Thanks to Wu, I'm never quite sure if Tina is being sincere or sarcastic.

I am curious about one little mystery that I have no doubt MJD will explore in a future book. When the Wyndham werewolves come a-callin' (yes, THE Wyndham werewolves!), one of them follows Betsy upstairs into Baby John's room (downside of audio books—I can't easily browse back through to see which werewolf it was). Well, as soon as he gets in the nursery door, he completely freaks out and runs away. So what is it about Baby John that could scare a werewolf? I mean more than the poopy diapers, of course.

Now, if only they would hurry the hell up and release the audio book for book 7, Undead and Unworthy. The print book released June 24th, so C'MON PEOPLE! Wutz the holdup, huh?!
Piquant Opines: RT, Kris, Love Vampires, AAR


Charlaine Harris - From Dead to Worse, Southern Vampire (Sookie) series book 8
narrated by Johanna Parker

Category: Peanut M&Ms - mmmm...devour... sigh... then reach for the next one. My daily dose of Insanity-B-Gone. (A-,B+,B)
Flame Height: 5.5" out of 9"

See INDEX for previous Charlaine Harris commentaries.

While the later books in this series have all been released as Audible downloads, audio release of the earlier books isn't complete yet, but I'm assuming they will be eventually.
1. Dead Until Dark (available)
2. Living Dead in Dallas (available)
3. Club Dead
4. Dead to the World
5. Dead as a Doornail (available)
6. Definitely Dead (available)
7. All Together Dead (available)
8. From Dead to Worse (available)
See Harris' website for a list of novellas and short stories set in the Southern Vampires' world that appear in several print anthologies.

Like Undead and Uneasy above, From Dead to Worse is another series-altering book that absolutely should not be missed. FDtW opens shortly after the Vampire Summit's disastrous fallout (All Together Dead). Sookie arrived home safely, but she hasn't heard from Quinn since she left him at the hospital. Honestly, that's okay with me. I liked Quinn before that last book, but found him less than likeable in ATD, and REALLY unlikable in this one. Okay, he has reasons for what he does in FDtW, but I agree with Sookie's eventual assessment. The biggest news in FDtW is that a mysterious visitor brings Sookie info about her Fae bloodline (FINALLY!) and, (be prepared to squeal)--- Eric REMEMBERS! SQUEEEEEEE!!! BTW, if you have to ask "Remembers what?", then you could not possibly have read the last few books in this series. I'm surprised the heat generated by the ever-present Eric/Sookie sexual tension hasn't caused them to spontaneously burst into flames.

As usual, Johanna Parker's narration is amazing. I cannot imagine ever reading a Sookie book in print again because Parker's characterization of Sookie is picture perfect. In fact, I have no doubt that when the TV series debuts on HBO next month, I am going to have a lot of trouble trying to wrap my head around a completely different voice coming out of Sookie's mouth (or any of the other characters either).
Piquant Opines: RT, Kris, Dear Author (Jennie), Dear Author (Janet), Love Vampires, Kmont, Bam (Dionne Galace), via Marta Acosta's VampireWire: Kathleen, Reading, Etc., and while I can't see that she ever actually reviewed FDtW, Tumperkin (Carolyn Jean) has definitely got the Sookie fangirl bug.


Cathy Maxwell - The Marriage Contract
narrated by Virginia Leishman

Category: M&Ms - a bit lighter and/or not quite as satisfying as Peanut M&Ms, but still Oh-So-Enjoyable! (B,B-,C+,C)
Flame Height: 5.5" out of 9"


This was a pleasant, entertaining historical romance (Scotland 1815). Although it's fairly predictable, Maxwell does include a few little surprises and twists to add a bit of complexity to the story. Leishman makes some odd character voice choices with some of the male characters, but ultimately her narration is as pleasant as the storyline and neither detracts from nor enhances it. I recommend this for traditional romance fans.
Piquant Opines: RT, AAR, Mrs. G


♥ ♥ ♥ ♥ ♥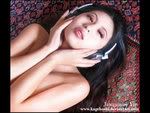 PHIL GIGANTE ALERT:
All of
Karen Marie Moning's
Highlander series
, eargasmically performed by Phil Gigante, are now available as downloadable audio through Audible.com at SIGNIFICANT savings (for members) over Amazon and AudioBookStandDL (note:
Beyond the Highland Mist
and
Kiss of the Highlander
(my fave) are on a members-only sale this week for $9.95!!). Right now I'm listening to the Audible download of book 7,
Spell of the Highlander
, which is also on sale this week for $9.95. Too bad Audible only allows reviews for audio books purchased directly through them, but I'll have to make due trying to review all seven as part of my review of
Spell
over there.
I can't believe there will be no more! ::SOB:: Yes, I DO know that
Into the Dreaming
is also part of this series, but it's just a novella and I doubt it will be released on audio. So
Spell
is the last of the Phil G. Highlanders. ::SOB:: No more eargasms?! ::SOB:: Who do I
threaten
coerce
bribe
beg to make sure Phil gets signed up for more romance novels? Cuz, really, like Nathan Kamp and his nummy covers, Phil and the aural pleasures he gives belong to US now!
So sez I.
Although I've always wondered how he can read some of those over-the-top lusty scenes without sinking to the floor with embarassment or rolling on it with laughter (remember the college students reading Lora Leigh?). Or maybe he doesn't get through them at all. He's just in so much pain from laughing that he's able to finally get a good take without cracking up.
Have you read any of these books? Feel free to review or link to a review in the comments. Even if you don't agree!