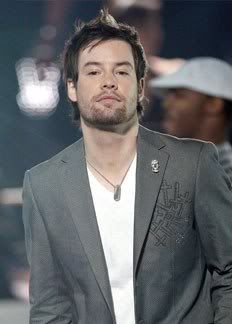 Memba this cutie patootie? David Cook, American Idol 2008. His first album releases in November and the first single was just made available for listening on AOL.

Listen to LIGHT ON (if that doesn't work, and it didn't when I posted this, try here and scroll down to find it).

Whatcha think? I think it's a bit of Foreigner and Cat Stevens mixed with a bit of Eagles style country-rock (although those of you who listen to more contemporary Pop than I do can probably come up with better comparisons). I like it, not sure I can say I LOVE it, but I still love his voice. I'm definitely looking forward to the entire album.


♥ ♥ ♥ ♥ ♥
Speaking of Voices from the Past, this isn't exactly breaking news, but memba
Darius Rucker
, lead singer of
Hootie and the Blowfish
? Well, he's gone Country and he's DAMN GOOD! Watch the video of his hit single
Don't Think I Don't Think About It
or listen to the ENTIRE album,
LEARN TO LIVE
. Love his voice, too.
♥ ♥ ♥ ♥ ♥
And continuing with this completely non-book related post theme...
Predictions for Black Friday 2008 can be found
here
. That's the abso-freakin-lutely bugfucking insane Day-After-Thanksgiving "official" kick-off of the holiday shopping season here in the U.S. If these predictions come true, it could make for an exciting shopping season since, in the past, the number of these types of deals gets better and better as the season progresses.