My husband drove over to St. Louis, MO for an Ace Hardware Convention this past weekend. Okay, fine. He wanted me to go, but it's just too hard for both of us to go anywhere during the school year. It feels really weird when we're not together, but I lived.

Unfortunately, about a week ago, the significance of the weekend he'd be gone dawned on me. OMG! That's HOMECOMING WEEKEND! Me... with the 16 year old demon spawn... alone... getting her ready for... THE HOMECOMING DANCE! Nooooooooooooo! This could get very, VERY ugly! Fortunately, my oldest demon spawn decided to come home for the weekend. PHEW! Another bloody battle averted.

Back to the dance in a minute... This is what I did for my 12 year old son at 6:30 Friday morning for Ultimate Spirit Day:

Then that night we went to the Homecoming Game. I am sooooo not a sports fan, but the 16 year old is a cheerleader and each cheerleader has to make a scrapbook for one of the senior football players. So my task at the games is to take a bazillion pics
of someone else's kid!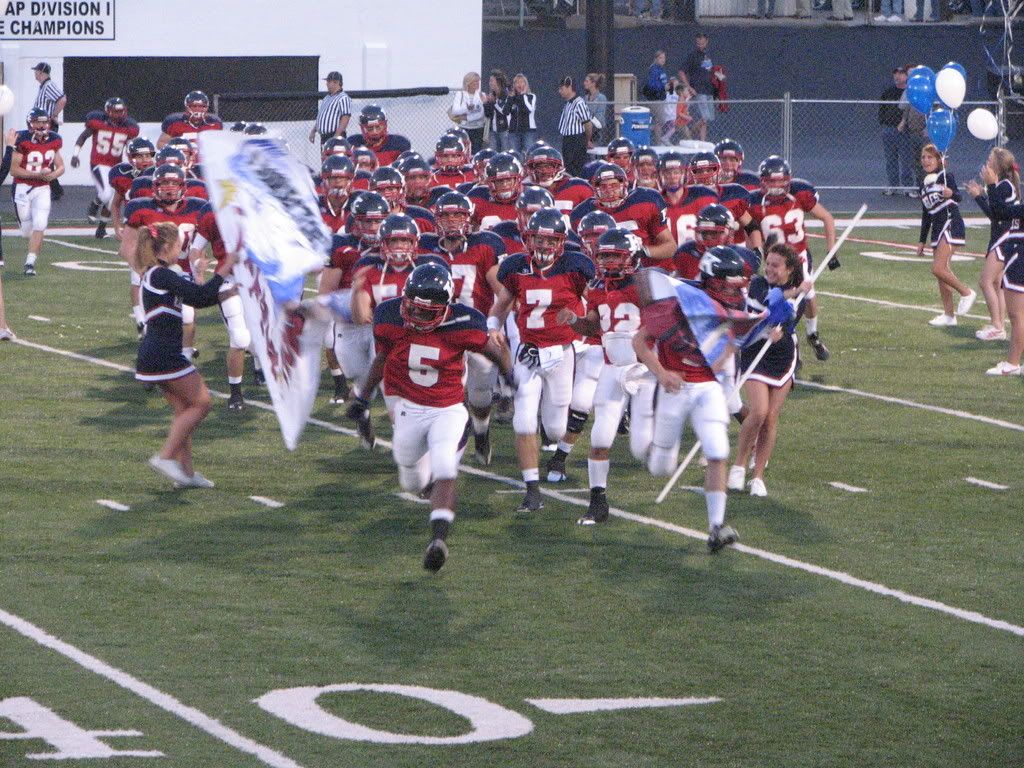 Then Saturday was the Homecoming Dance. GAK! I seriously paid way too much for the 16 year old's dress just because we found something she liked and the extra $50 or so meant
no more shopping
. Her date doesn't go to her school, so that meant I had to shell out another $70 for tickets (on top of dress, shoes, tanning, photographer). So I told her I wasn't paying for her to get her hair done too. Oldest daughter to the rescue again! She did the 16 year old's hair beautifully. Anyway, here's the gang meeting up before the dance. No, sorry, I won't point out which one is my very own demon spawn.
♥ ♥ ♥ ♥ ♥
A quick update to the Amazon saga of the sofa bed for my oldest son (detailed
here
and
here
): it arrived with no problems! The cover is actually more tan than the green as shown in the pic, but it still looks okay. At least that's what the demon spawn told me... he's yet to send me the pic I told him to take on his camera phone so I could see it too.
♥ ♥ ♥ ♥ ♥
I've won a couple of giveaways lately- WOOT and HUGE Thank Yous!
Over at the
DIK blog
, I won Sarai's "identify the abs" contest (no surprise there) and scored a copy of
Katie Reus'
Running from the Past
(cowboys!).
And over on
The Book Smugglers
, I won BOTH
The Lost Duke of Wyndham
AND
Mr. Cavendish, I Presume
by
Julia Quinn
. I've been hearing so much buzz about these two books!
Jules Jones
also sent me a review copy of her latest,
Lord and Master 2: Taking Work Home
(I'm getting to it, Jules!). It's been way too long since I've had a Jules Jones fix- I love her characters! (Must get eInk eReader to save my tired old eyes from my PDA or computer screen; I've really been missing a lot of good eBooks). Some of you may notice that this is the cover art inspired by the 2nd pic down in
this post
. Don't ya just love it?!
♥ ♥ ♥ ♥ ♥
Hokay, back to work for me. I'm hoping to get my commentaries for the rest of the Highlanders audio books and
Faefever
posted within the next couple of days.
♥ ♥ ♥ ♥ ♥
UPDATE:
Oh Good Grief! I forgot to mention this even though it's sitting about a foot and a half from my head!
I also won a review ARC of book 3 in
Jaci Burton's
Demon hunter series,
The Darkest Touch
. It doesn't release until October 28th, which gives everyone plenty of time to catch up with this series. See my
index
for links to Commentaries on the first two books. And expect a Commentary on book 3 right before the release date.