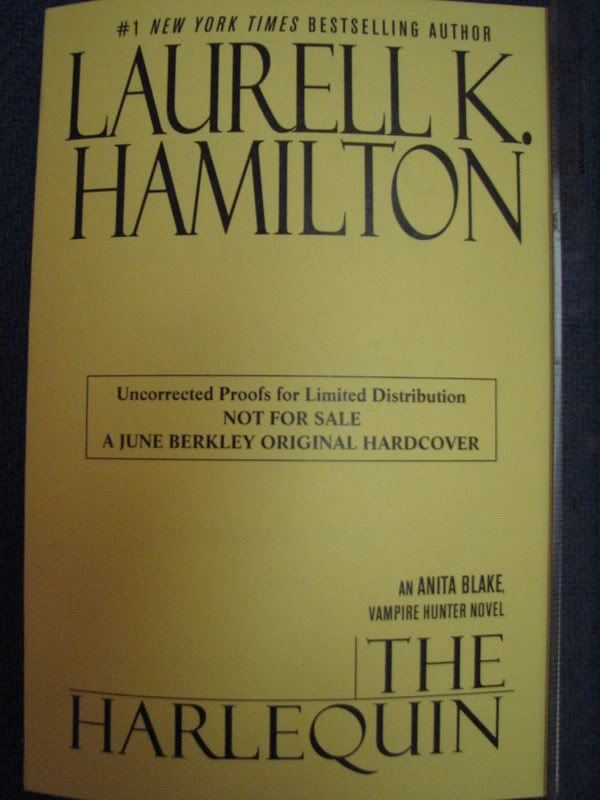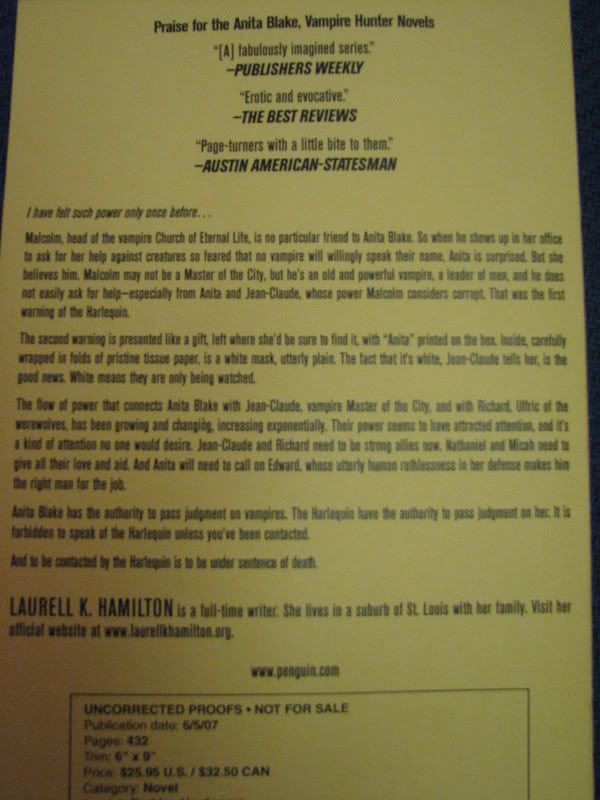 *FANGIRL SQUEE*

~
Yes, that IS my ARC for Laurell K. Hamilton's
The Harlequin
- it came today!! I've never received an
A
dvanced
R
eaders
C
opy before, and to have this incredibly special one be my first is just Nirvana!!
~
Since my scanner has decided to join the rest of my electronics in keeping me in technohell, I used my camera to take these picks. Unfortunately, I wasn't able to take a legible pic of the back cover blurb.
~
The blurb says:
~
I have felt such power only once before...
~
Malcolm, head of the vampire Church of Eternal Life, is no particular friend to Anita Blake. So when he shows up in her office to ask for her help againsy creatures so feared that no vampire will willingly speak their name, Anita is surprised. But she believes him. Malcolm may not be a Master of the City, but he's an old and powerful vampire, a leader of men, and he does not easily ask for help- especially from Anita and Jean-Claude, whose power Malcolm considers corrupt. That was the first warning of the Harlequin.
~
The second warning is presented like a gift, left where she'd be sure to find it, with "Anita" printed on the box. Inside, carefully wrapped in folds of pristine tissue paper, is a white mask, utterly plain. The fact that it's white, Jean-Claude tells her, is the good news. White means they are only being watched.
~
The flow of power that connects Anita Blake with Jean-Claude, vampire Master of the City, and with Richard, Ulfric of the werewolves, has been growing and changing, increasing exponentially. Their power seems to have attracted attention, and it's a kind of attention no one would desire. Jean-Claude and Richard need to be strong allies now. Nathaniel and Micah need to give all their love and aid. And Anita will need to call on Edward, whose utter human ruthlessness in her defense makes him the right man for the job.
~
Anita Blake has the authority to pass judgement on vampires. The Harlequin have the authority to pass judgement on her. It is forbidden to speak of the Harlequin unless you've been contacted.
~
And to be contacted by the Harlequin is to be under sentence of death.
~
For the explanation of why I'm suddenly ARCworthy, click
here
.
~
I think I really HAVE died and gone to Reader Heaven!!