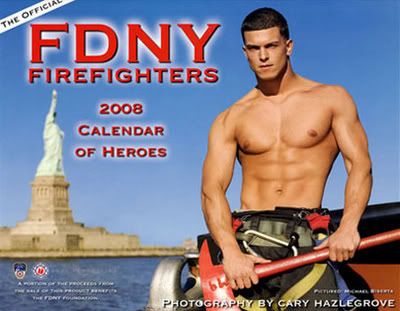 Ah, another FDNY calender. *sigh* Don't we all just love 'em? Well enjoy this sneak peek of the 2008 cover. Because, thanks to our cover boy, Michael Biserta,
we're not getting it and there may never be another one!
I saw this the other day on
dlisted
and it just cracked me the hell up...
"Michael Biserta is the NYC fireman who made jaws drop when his "Guys Gone Wild" video featuring his enormous (and I mean enormous) peen began circulating around the internet a couple of months ago. Michael was the coverboy on the FDNY Calendar, but due to the scandal the calendar was shelved and they vowed to never do another one again. Fuck the calendar, they need to put this boy in the movies!"
WARNING: SOOOOO not work safe!!
To see it bigger (*snort*) click
here
.
My favorite HOLY SHIT part...
He wrapped it around his freakin' WRIST!
My least favorite part...
We never find out if he's a grower or a show-er.
Actually, I'm not even sure if he CAN get it up. He seemed strangely unaffected in the video, didn't he? BOO!
My favorite
dlisted
comment about him...
"I've had bigger. It's a nice dick, curve and all."
"
That`s not a curve, it`s an elbow.
"